Quickly dice and slit vegetables and fruits, convenient and easy.
No need to touch the sharp blades. Never hurt your fingers.
No additional tools or even a cutting board is needed!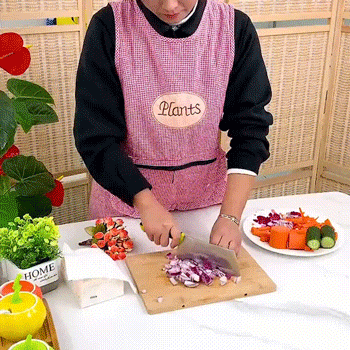 FEATURES & BENEFITS
Food-grade Material – Made of food-grade PP and stainless steel materials, it is food-contact safe and can be used with confidence. Sharp blades ensure clean cuts in seconds.
Quickly Prepare Vegetables– No need to cut frequently with a knife, just gently press the chopper, and vegetables can be diced or sliced. The diced vegetables are neat and square, which is more beautiful than hand-cutting.
Evenly Chopping– The base has 36 fixed clamping points and will not run off course. It is easy to cut vegetables into uniform cubes of 1.2cm for better taste
Easy and Safe Operation– Simple and safe operation. No need to touch the sharp blades. The widened handle offers a greater grip for easier use. Silicone pads at the bottom to prevent skidding.
PICTURES
Specifications:
Material: Food-grade PP + Stainless Steel
Color: Yellow, White
Product Size: 15x10cm
Product Weight: 269g
Package Include:
1x 2-in-1 Vegetable Chopper Dicing & Slitting
Specifications
DISCOUNTED PRICE N6,500 ? TODAY ONLY
Buy 1 for N6,500 (FREE delivery)
Buy 2 for N11,000 (FREE delivery)
Buy 3 for N15,000 (FREE delivery)
PLEASE READ OUR DELIVERY POLICY BELOW BEFORE YOU ORDER
Pay on delivery in Lagos, Abuja and Ibadan only

PLEASE DON'T ORDER IF YOU ARE NOT IN LAGOS OR ABUJA OR IBADAN

PLEASE ORDER THIS PRODUCT ONLY IF YOU ARE READY TO PAY AND RECEIVE ON DELIVERY.
? PLEASE FILL THE FORM BELOW TO PLACE AN ORDER & WE WILL CALL YOU TO CONFIRM DELIVERY ?
---
---
If you have questions, please click here to chat with us on WhatsApp
Ayonaija is a registered company based in Lagos. We have sold useful and innovative products to thousands of customers in Nigeria. Customer satisfaction is our utmost priority.
Thousands of people love our product
We are located at Chevy View Estate, Chevron, Lekki, Lagos, Nigeria